OPEN LETTER to Round Rock ISD Trustees
Dec. 17, 2021
Yesterday I called for the resignation of Tiffanie Harrison, as it is my studied opinion she is unfit to exercise political power.
In support of my allegation that Ms. Harrison is a racist who is abusing her political power in the office of Trustee, consider the following "About" section from an organization which lists Ms. Harrison as an original founding member, the "Radical Equity Fund for Reparations" (website cited below). Harrison's Radical Equity Fund seeks voluntary donations for reparations to Black Americans.
Our Federal Constitution underscores the liberties of free association and free speech. While Ms. Harrison's choice to solicit donations which will only benefit certain people who are deemed qualified recipients according to black skin color (which the website fails to detail and is essentially impossible to objectively define or measure), is immoral and unethical, it is not illegal, and I support her right to raise and distribute such voluntary funding.
However, Ms. Harrison's individual support of an organization which calls for FORCED reparations, which Congressional H.R. 40 (quoted below) calls for, is absolutely a violation of her oath to "uphold and defend" the Constitution. There is absolutely NO Constitutional authority for any government elected official to propose, pass or enforce a federal law which compels one group of people – based on a skin color – to be forced to pay taxes to another group of people – based on their skin color. In fact, federal laws already strictly prohibit this kind of race-based discrimination.
Moreover, there is no doubt that such brazenly unlawful raced-based redistribution of wealth would foment political division likely to touch violence. But since the Radical Equity Fund very clearly and proudly identifies with BLM (Black Lives Matter), such hatred and violent political division is their Marxist objective, not an unfortunate side effect.
As a highly educated and very successful high tech mechanical engineer, I understand how critically important it is to have a laser focus on objective truths which are investigated and discovered through the honest pursuit of math and science. Ms. Harrison's obsessions with racism and the politically correct humanist gospel of LGBTQ righteousness are destructive to cognitive development and rational thought.
Ms. Harrison's anti-education obsessions are an exercise in Orwellian double-think – the practice of demanding that one consent to belief in two diametrically opposed concepts. The Orwellian purpose of corrupting the mind in this way is to prevent them from engaging in rational thought. Without powerfully focused rational, analytical thinking, my complex problem solving profession would be impossible.
I leave you with just one Orwellian double-think exercise Ms. Harrison would support: A. There is no such thing as 'binary gender' of male and female. B. A transgender person transitions from male to female, or vice versa.
Children must be shielded from such subversive indoctrination, not immersed in it as Ms. Harrison demands.
Merry Christmas to all, and to all a good Light.
Don Zimmerman,
Round Rock ISD parent and Taxpayer since 2000.
ADDITIONAL INFORMATION: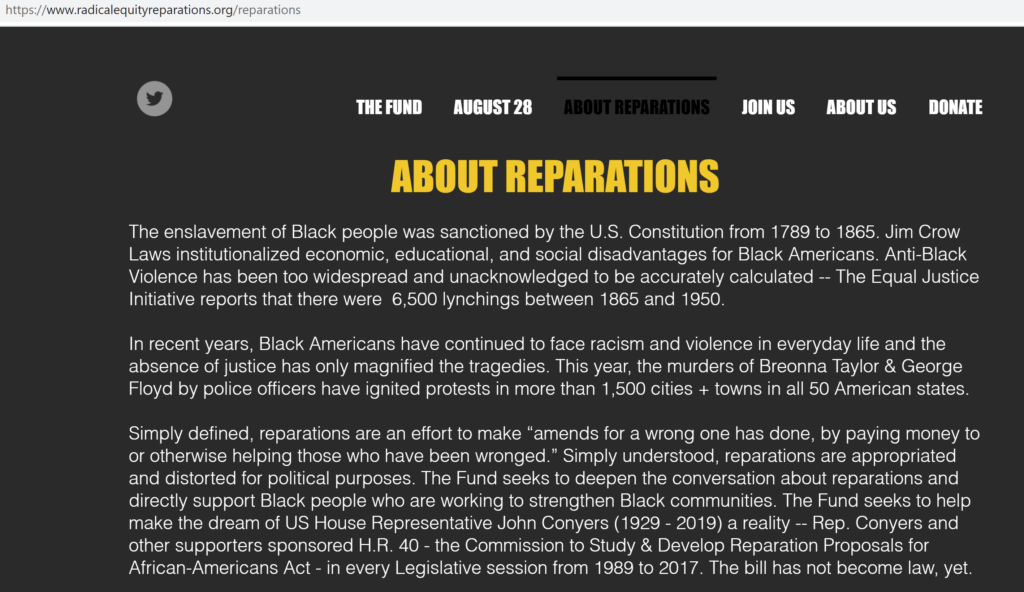 Radical Equity Fund For Reparations website:
https://www.radicalequityreparations.org/reparations
Who is Angela Davis, whose quote was honored by the "Radical Equity Fund" ? See below …